Home
/
Baby & Kids
/
【Baby&Kids】Triple Water Slides and Pool Water Park, 24 ft L x 21 ft W x 8 ft H, Outdoor Fun for Kids
【Baby&Kids】Triple Water Slides and Pool Water Park, 24 ft L x 21 ft W x 8 ft H, Outdoor Fun for Kids
About this item
[Specifications] 1) Product Inflated Size: 24 ft L x 21 ft W x 8 ft H. Package includes: water slide, water spray, carry bag, ground stakes, repair kit and instructions 3) Weight limit: Max individual weight: 100 lbs. Number of kids: 5+ players 2) Easy set up and take down, inflates in less than a minute.
[Quality Assurance] 1) Heavy-duty puncture proof material with double to quadruple stitches. 2) Strong secure 9" ground stakes 3) 6 ft Long air intake tube. 4) Extra slide cover provides extra protection, easy cleaning and is conveniently replaceable. 5) Higher railings for safer sliding fun. 6) Safe climbing wall with netting enclosure.
[Safety Standards] Bounceland products have been tested and approved for meeting and exceeding current world-wide requirements. We have been certified by ASTM (consumer safety), 16CFR1500.3/16CFR1505 (materials safety), CPSC (manufacturer certified), and UL (blower certified) with 25 ft power cord and GFCI plug (Recommended for all electronic toys by the American Consumer Safety Committee).
[Perfect Gift] Perfect gift idea for children to encourage active and social play. Replace screen time with a fun water slide and watch the kids play for hours!
---
Product Description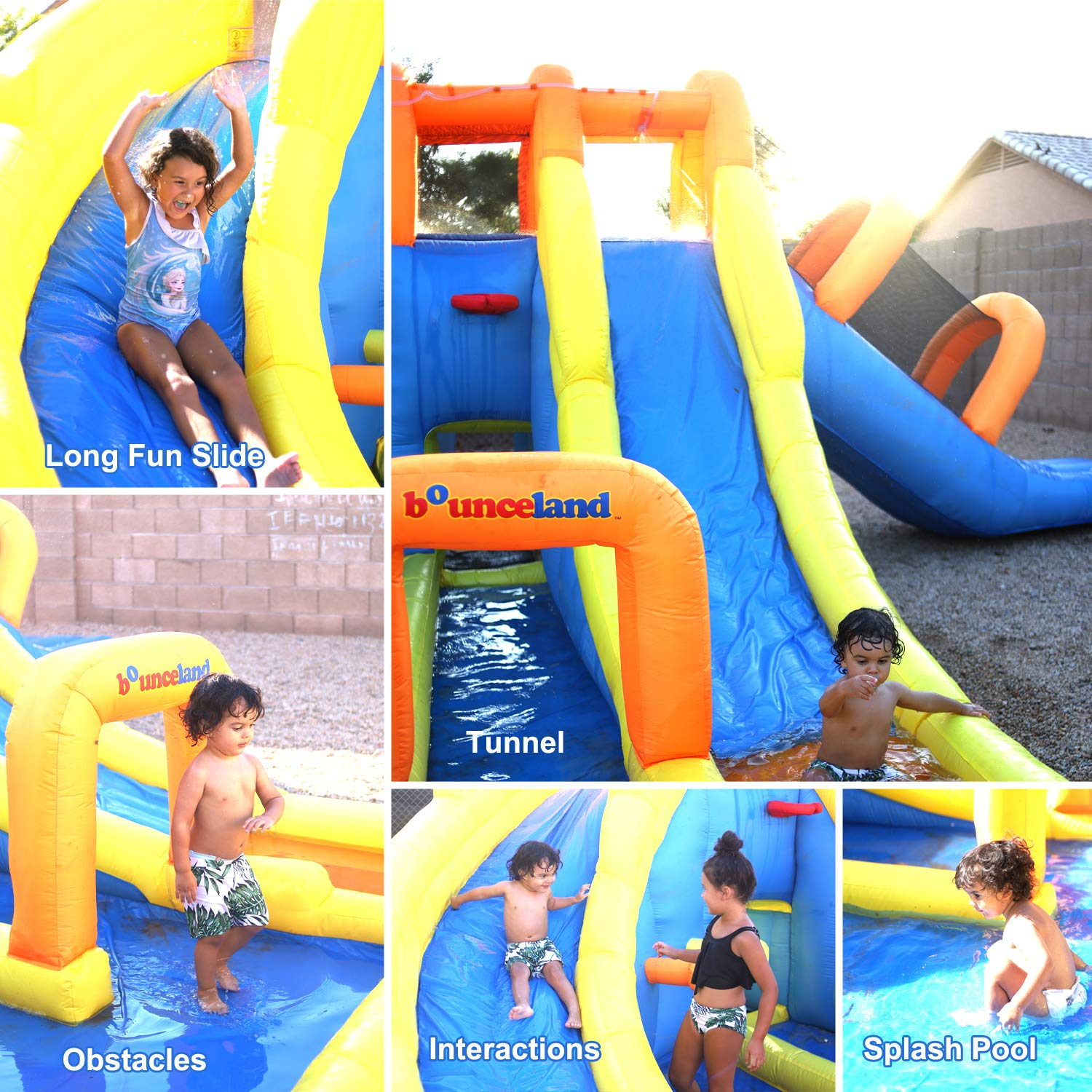 Big Splash Triple Water Slides and Pool Water Park
Inflated size 24 ft L x 21 ft W x 8 ft H
Forget the crowded, chaotic water parks- why not set up a water park in your very own back yard? With a total inflated size of 24' (L) x21' (W) x8' (H), kids will never run out of things to do. Let them take their pick of three slides, splash in the pool, use the inflatable basketball hoop, slide through the tunnel, or play with the obstacle arms! With the Big Splash Dual Water Slides and Pool Water Park, you'll never go back to a water park!
Features:
Powered by strong UL blower (included)

Heavy-duty puncture proof materials with double to quadruple stitches

Long fill tube (approx. 6 ft) allows blower to be placed away from the water park while inflating

Easy set up and take down

Inflates in less than a minute
---
Customer questions & answers
Question: Is the extra Velcro surface for the slide so that it can be used dry and wet? Also, are those Velcro pieces on all the slides?
Answer: This is a wet slide only. The extra Velcro sliding piece is for the slide for sliding down the slide faster.
Question: My son is 8 yrs. old. Would he enjoy this?
Answer: Yes, I have a 10 and 4 years old kids, and they both enjoyed it, and highly recommend it.
Question: what is the material it is made of? is it durable?
Answer: 14- to 16-ounce heavy-duty, laminated and coated vinyl and nylon. Our materials are puncture-proof, fire-resistant and comply with ASTM (American Society for Testing and Materials) toy safety standards. It is very durable.
Question: Can you leave it set up for the summer or do you have to reinflate with every use?
Answer: You have to inflate with every use. It is not good to leave out overnight.
Question: Hello does the center area fill up with water? Does it become a small pool?
Answer: You can fill this area up with water for a splash pool area
Special discount activity area