Home
/
Home & Garden
/
【Home&Garden】12 FT SUNBRELLA Deluxe NAPOLI Curvy Aluminum Offset Umbrella with Base (Canvas Flax)
【Home&Garden】12 FT SUNBRELLA Deluxe NAPOLI Curvy Aluminum Offset Umbrella with Base (Canvas Flax)
About this item
FEATURES: This Sunbrella cantilever umbrella from our Napoli collection provides 100 square feet of relaxing cooling shade. Stay in the shade with our clever auto-lock system that allows you to reposition the tilt of the umbrella exactly where needed as the sun movthe day.
DESIGN & CONSTRUCTION: This umbrella opens and closes with an auto-crank and has wheels for easy movement. The heavy-duty polyester canopy is made to stand up for seasons against water and UV rays. The reinforced pole is powder-coated aluminum for enhanced rust resistance.
STABILITY BASE: In order to safely secure your umbrella, the base must be filled with 265 lbs of sand and water.
EASY ASSEMBLY: Package includes all necessary tools and hardware along with enclosed instruction manual.
PACKAGE: The base and umbrella are shipped separately.
---
Product Description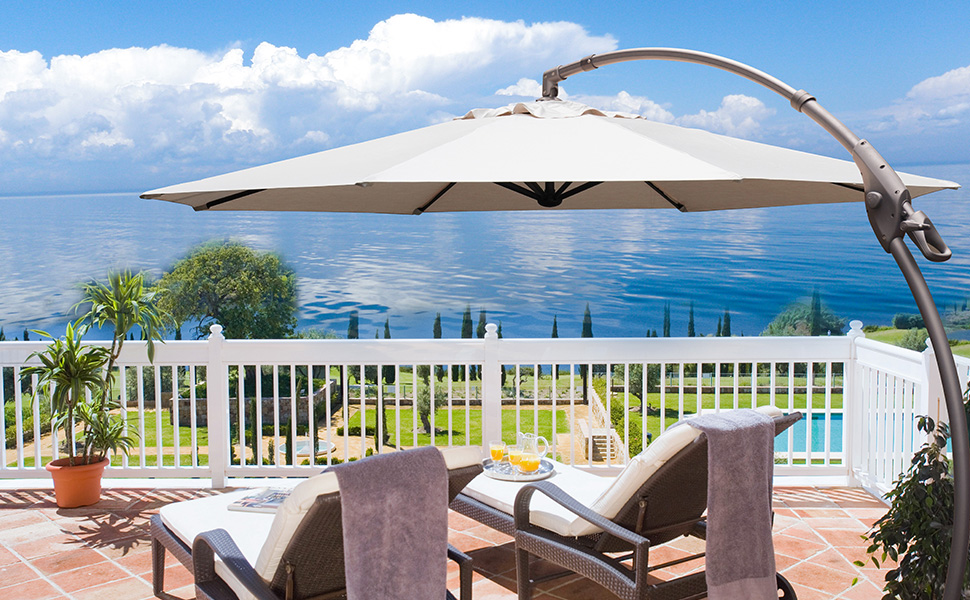 Specifications:
Fabric: 240G UV protected, fade-resistant and water-resistant, champagne polyester(250g/m³)
Main pole: Powder-coated rust-free aluminum,brown
Ribs: sturdy Iron,brown
Base: Polyethylene base with wheels
Opening mechanism: auto crank and handle
Opening angle: adjustable up to 90 degrees
Style: cantilever offset hanging umbrella
Main pole diameter: 2.4 inches
Umbrella Weight: 26.5KG
Base Weight: 9.0KG
---
Customer questions & answers
Question: Can you use pea gravel instead of sand to weigh the base down? Is there a maximum weight that the base can hold and still easily be moved?
Answer: Yes, you could use pea gravel. The manufacturer recommends putting 240 lbs. of water/grave/sand in the base. How much can you lift? I put in 250 lbs. of sand, and I can pivot the base around as needed.
Question: Does the umbrella rotate?
Answer: No, only if you move the base then you can you change the angle.
Question: Can the metal stand be used with weights instead of the filled base which is not moveable on a wood plank deck?
Answer: The wheels are wide enough to roll on a wooden deck. The aluminum frame is made to fit the base and would not be large enough to support the umbrella in heavy winds using other weights. One of the reasons I purchased this umbrella and stand is I feel this is one of the best looking stands and it is extremely stable. I am very happy with this umbrella and stand.
Special discount activity area