Home
/
Home & Garden
/
【Home&Garden】13 Ft Double Top Round Deluxe Patio Umbrella Offset Hanging Umbrella Outdoor Garden Umbrella
【Home&Garden】13 Ft Double Top Round Deluxe Patio Umbrella Offset Hanging Umbrella Outdoor Garden Umbrella
About this item
The diameter of this patio umbrella is 13ft , unique double-top canopy design for commercial and residential use
This patio umbrella has unique handle design and crank system, 6 height and angle to choose, 360-degree rotation for easier shading area control
High quality 240/gsm yarn-dyed polyester fabric, UV resistant, water-repellent and colorfast fadeless, 3 years warranty
All-aluminum umbrella bones and 8 heavy-duty ribs, anti-oxidation spray painted, maintain a long period life
Umbrella comes with protective cover in beige.
---
Product Description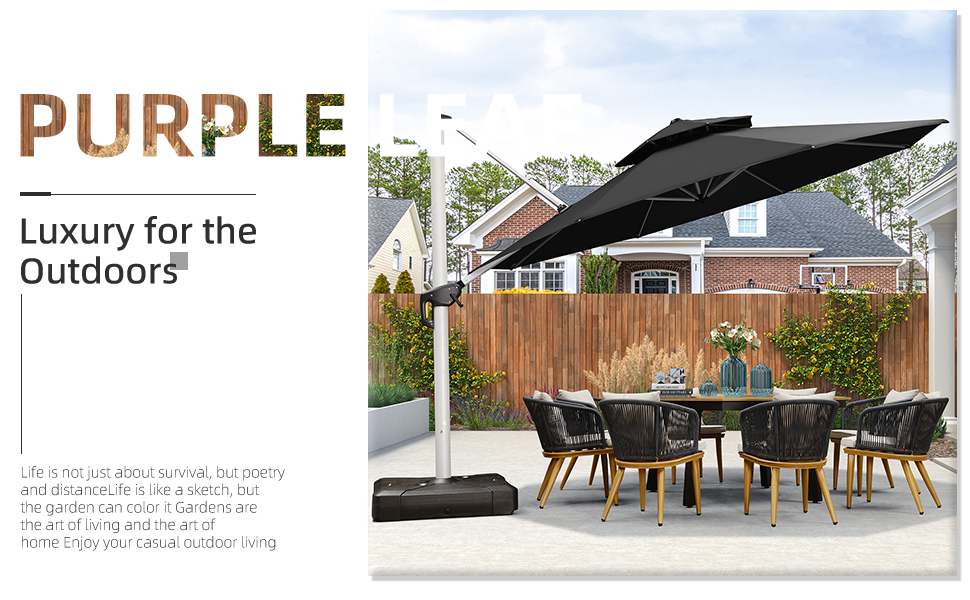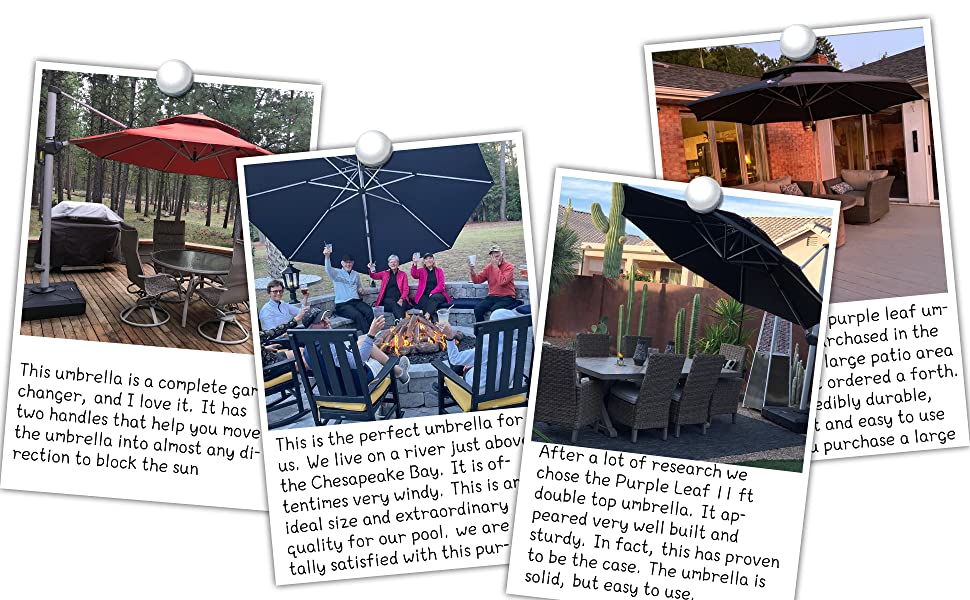 Specifications:
Shape: 13 Feet Round
UV Protection (UPF): 50 W/m
Product Weight: 69 Pounds
Wind Resistance: 30 MPH
Material: Aluminum Fame
Canopy Fabric: 240/gsm yarn dyed polyester fabric
Using Occasion: Patio, Deck, Poolside, Garden, Yard, Pool
---
Customer questions & answers
Question: How does the main pole fit into a base? Are there any specs or details i.e. bolt patterns, size etc.
Answer: We filled our base with sand. The pole slides right in. There is one self evident tightening bolt with a knob that locks the pole in place. No specs or details needed. Intuitive.
Question: Has anyone tested it for waterproofing?
Answer: I have only used it during a drizzle and it didn't leak. Material is thick and it is well made, I'm very satisfied with it.
Question: Does the crank both extend (open) the umbrella and tilt. I have tried turning the crank both clockwise and counter. The umbrella does not open.
Answer: The lower crank turns the umbrella in a circle, the upper crank opens and closes the umbrella. The handle on the shaft tilts the umbrella. Pull the handle all the way to the top until it clicks in the notch, then crank in a clockwise motion and the umbrella should open. If it doesn't, the main cable to the center of the umbrella is disconnected or broken either at the crank, or somewhere in between.
Question: weight of umbrella without base, canopy edge height when open, adjusting handle height when down and closed?
Answer: Not sure of weight of umbrella without the base. I would go by what the box weighs to get an idea. Canopy edge allows adults to walk under. If someone was really tall, they might have to bend down. Opens & closes really easy. I purchase the base and added sand and water. Have not had problems so far. If hard wind comes up as in storms, always wise to put down.
Question: What is outside dia. of support pole?
Answer: The main support is not a round cylinder. It's rectangular and quite rigid. Very strong.
We are very satisfied with this umbrella.
Special discount activity area