About this item
LARGE CHICKEN COOP - 4 nesting spots with removable dividers, three 36" roosts.
STURDY - Water and chemical resistant, impact and ultraviolet resistant.
MAINTENANCE FREE - Removable litter tray, large adjustable ventilation, easy access for egg collection.
EASY ASSEMBLY - No tools required – just snap together. Lightweight!
MADE IN USA - Built in the United States.
---
Product Description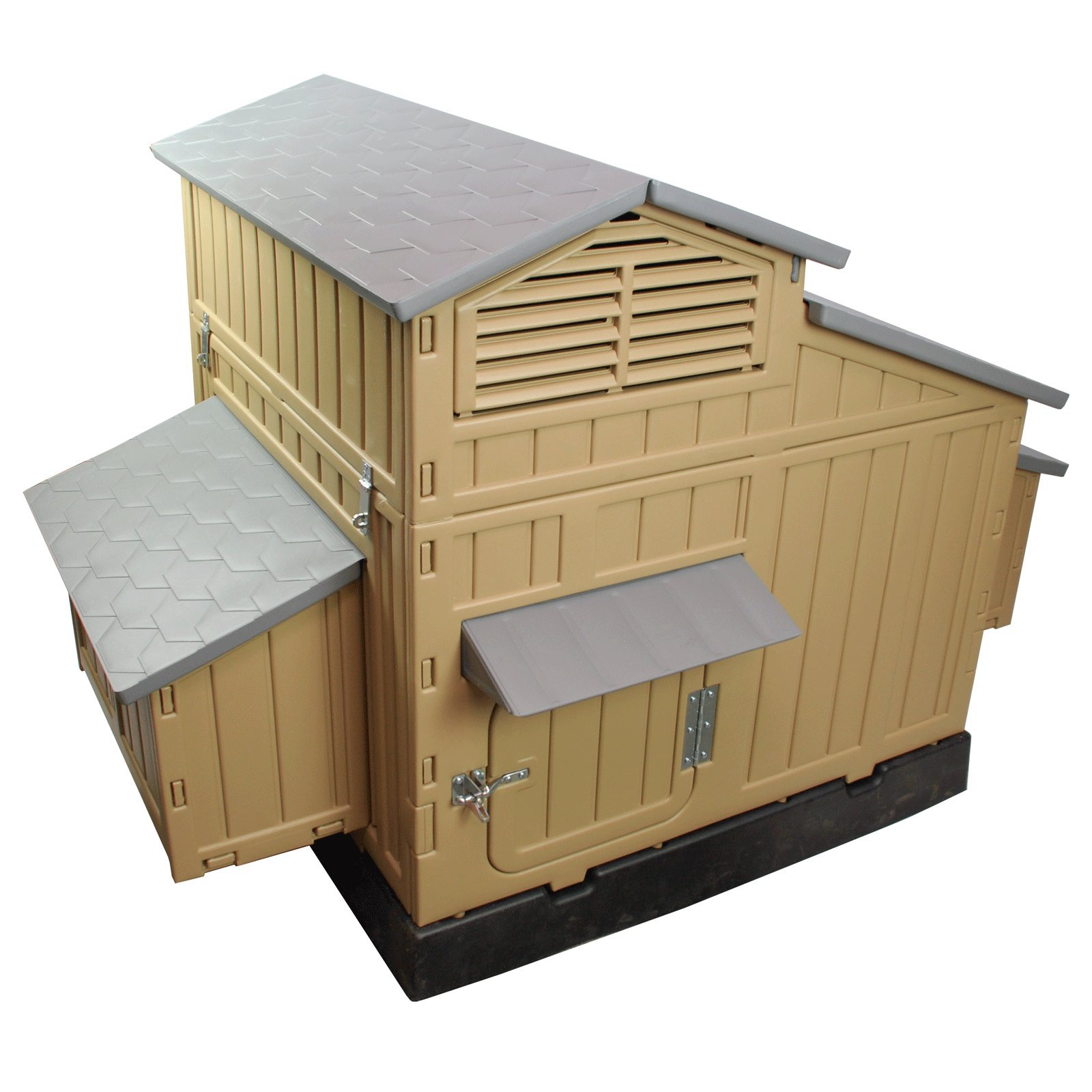 Recommended for use with 4-6 Large Chickens or 6-12 Bantams on average. Can vary with the size of your yard or an external run space.
---
Customer questions & answers
Question: I can't tell from the photos. Is there enough room inside for a feeder/waterer without being under a roost ?
Answer: They don't need water 24 7. They don't drink at night. BUT if you are going to have them outside, you must be diligent in making sure they get out early. In many ways, its better NOT to have water inside, esp in winter, as it raises the humidity in the coop, which is worse for them than the cold.
Question: Is the plastic good quality?
Answer: yes it is! I bought this for my 6 large chickens and they love it. The plastic is thick and easy to clean. It also holds warmth throughout the winter. We have problems with raccoons but now my chickens are safe as every opening locks shut. Highly recommend.
Question: Is each roost really 36"? How high from the bottom is the middle roost?
Answer: Yes, each roost really is 36" long. The middle roost sits about 10-12 inches off the floor of the coop. I absolutely adore this coop and so do my girls!
Question: How much room is needed to pull the trays out? What are the dimensions of the trays? The removal panel is the small beigh panel?
Answer: there are 2 trays, 36'' x 18'' each inside diameter.
Special discount activity area