About this item
STURDY CONSTRUCTION & WEATHERPROOF:Constructed by premium natural fir wood and painted with eco-friendly waterproof non-toxic varnish. The original wood is firm and natural for your beloved pet. Thanks to the eco-friendly paint, the cage is waterproof, anti-corrosion and also UV-resistant, which offers long-lasting lifespan to provide a warm house for pet all the time.
SPACIOUS SPACE & USER-FRIENDLY DESIGN:Large chicken coop comes with nesting box, resting box and ramp. Your poultry can lay their eggs in the nesting box. There is sliding door and ramp allows poultry to easily enter the raised housing area. There are timber ridges above the ramp to protects your poultry from slipping back. With the design of gridding door you can watch your pets without disturbing.
REMOVABLE TRAY & GRIDDING FENCES:There is removable bottom sliding tray for easy cleaning. High quality gridding fences provide a healthy poultry lifestyle. With the pitched roof your poultry can run outside even in rainy days. The fences are vital to the ventilation of poultry, they will also protect your poultry from the outside predators.
LARGE FREE SPACE: Large Chicken Coop is six-door design. The main house Double door, running cage three-door , egg box door, large activity space, pets can come in and out without interference, enjoy a happy diet and sleep time, and a separate egg box can be prevent the eggs from being damaged and not be disturbed, and you will also have a special place to fully interact with your pets, which is more warm.
RAISED PERCHES & COMFORTABLE FOR POULTRY:The raised perch keeps your poultry safe, dry and warm, especially in the rainy cold days. It's also handy in the heat as they are shielded from the sun and can easily access their nesting boxes without exposure to the harsh light.
---
Product Description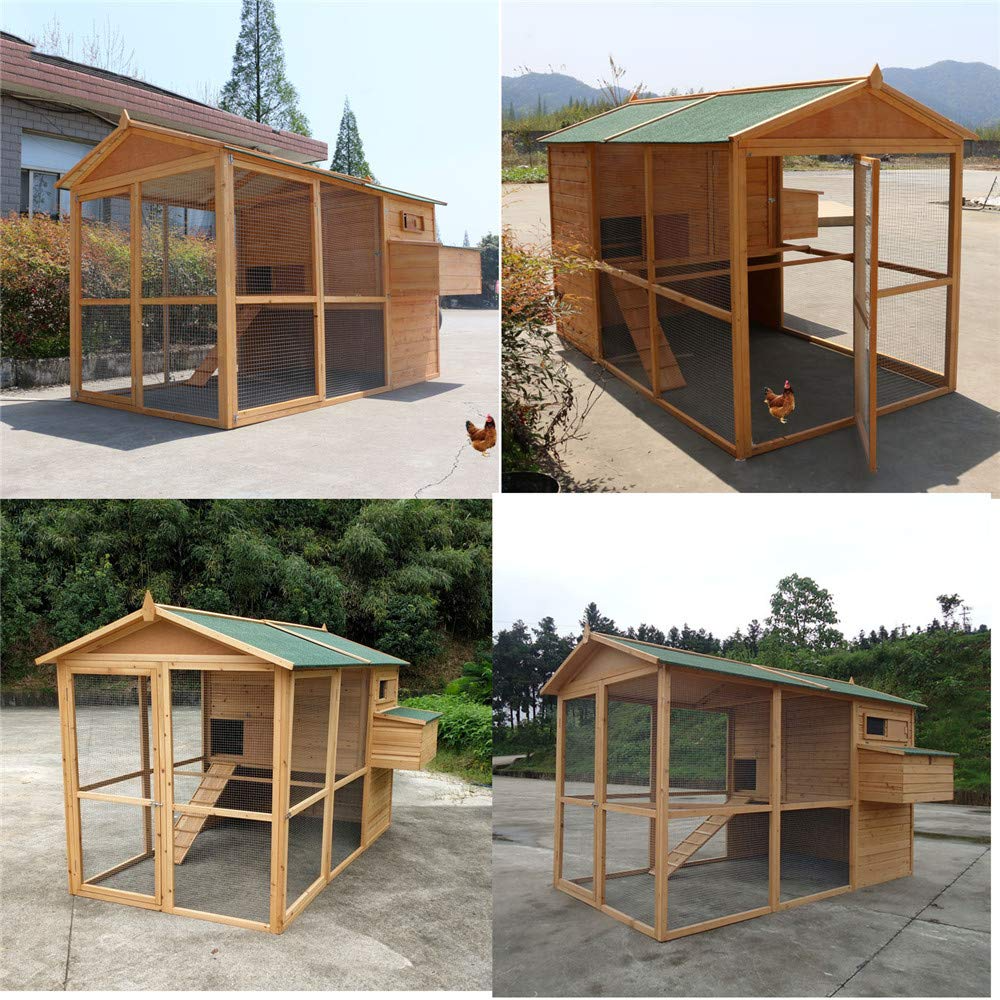 Outdoor Wooden Raised Chicken Coop Hen House with Nesting Box and Run
Treat your chickens to the good life they deserve with this chicken chateau from Large Chicken Coop! Our deluxe chicken coops are both stylish and functional. This model includes both indoor and outdoor spaces for your chickens to enjoy while being protected from predators and the elements. The hen house features a spacious interior area with attached nesting box, as well as roosts for your hens to rest and relax. The attached outdoor run is easily accessible via ramp, so your chickens can come and go as they please. Easily access the interior of this coop via liftable roof sections on the nesting box, or the lockable doors on the front of the house and run. A metal slide-out tray makes it easy to keep the hen house clean. This chicken coop kit consists of solid wood construction and requires simple assembly. Provide your hens with their very own poultry palace from Large Chicken Coop!
Specifications:
Material: Fir
Running cage material: galvanized iron mesh (anti-rust and durable)
Color: wood color
Overall Dimension (L×W×H): 270 x 180 x 165cm
Packing size(L×W×H): (four packages)
4/1:139.5x86x14cm
4/2:135.5x84x13.3cm
4/3:139.5x86x14cm
4/4:135x82x8cm
Chicken House Net Weight: 97kg
Assembly is required with all necessary hardware included
Special discount activity area