About this item
Cotton
Made with Hydra-Shield, 100% cotton duck canvas that is durable, watertight and breathable
Tunnel shaped design maximizes interior space tall 5 ft. ceiling height.Tailgate down design expands useable space
Large D-shaped door with top of the line YKK zippers.Covered entry.Two convenient gear pockets
Sturdy, 3/4-inch, steel tube frame connect to the clamp-on rails that easily mount on truck bed for secure fit. All-season use year-round, but not designed for heavy snow accumulations
Five windows provide excellent ventilation and openness, includes cab access window
---
Product Description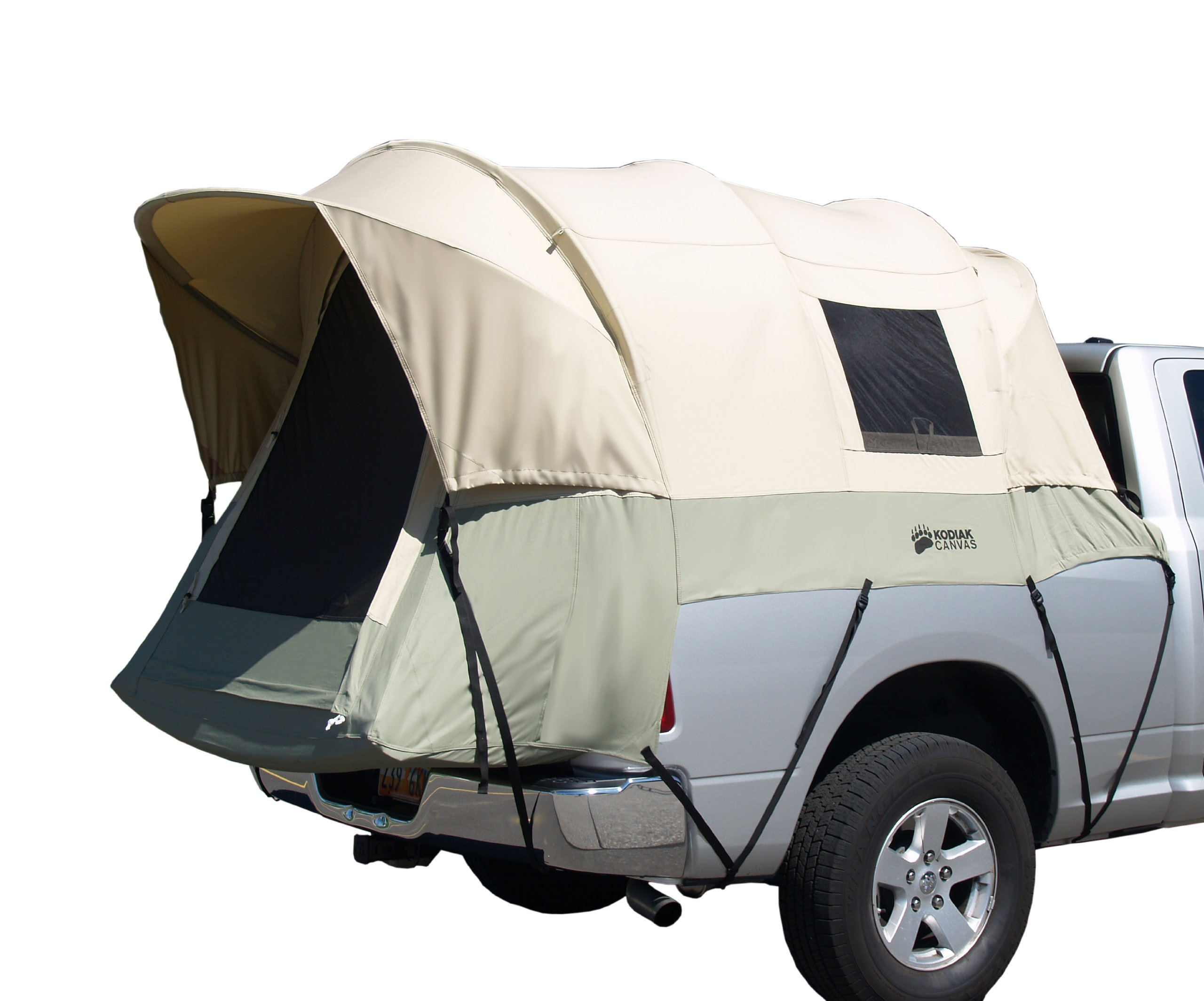 Kodiak Canvas Truck Bed Tent
Features:
• Hydra-ShieldTM, 100% Cotton Duck Canvas. Durable, watertight and breathable.
• Sturdy, 3/4-inch, steel tube frame.
• Tunnel shaped design maximizes interior space. Tall 5 ft. ceiling height.
• Tailgate down design expands useable space.
• 5 windows provide excellent ventilation and openness.
• Cab access window.
• Clamp-on rails easily mount on truck bed for secure fit.
• Large D-shaped door with top of the line YKK zippers.
---
Customer questions & answers
Question: does it have a floor?
Answer: No. The truck bed itself becomes the floor. We use a 3/8' sheet of 4'x8' plywood on the truck bed and that works just fine. Additional information you didn't ask about: After putting it up and taking it down about three times, that process gets a little faster, but it still takes at least twice as long to set up and take down compared with the typical ground tent. We had it out in a heavy rain and it didn't wick through or leak.
Question: I have a 97 Chevy k2500 short bed will this fit?
Answer: I have a 96 Toyota T-100 (short bed) and it fits perfectly in my truck. My bed measures 60.5" wide and 75" long. When my tailgate is down, it covers it too and all is well.
Question: Would that fit an S10 pickup long bed
Answer: I drive a 96 Toyota T100 and my truck bed measures 60.5 wide and 75" Long. The short bed version of this tent fits it perfectly. There is also a longer bed version of the tent. Good luck. I love mine and use it all the time.
Question: I have 2003 Chevy 2500HD 8 foot bed with a behind the cab top of the rail mount toolbox, will it fit over the toolbox?
Answer: Most of the time they work fine with a toolbox and we don't think it will be a problem.
Question: Will it fit a Chevrolet Colorado access cab,6 ft bed? Thank you.
Answer: Yes
Special discount activity area