About this item
Victorian-style wooden playhouse with front porch, serving station, bench and modern appliances
Kitchen complete with: telephone, plastic knife, cutting board, faucet, mounted sink, burner, fruit and vegetable basket with velcro food (Apple, corn, orange, carrot, watermelon, strawberry)
Half door with spring door hinges and large windows
White plastic flower pot holders and bay window
Panelized walls for quick and easy assembly
---
Product Description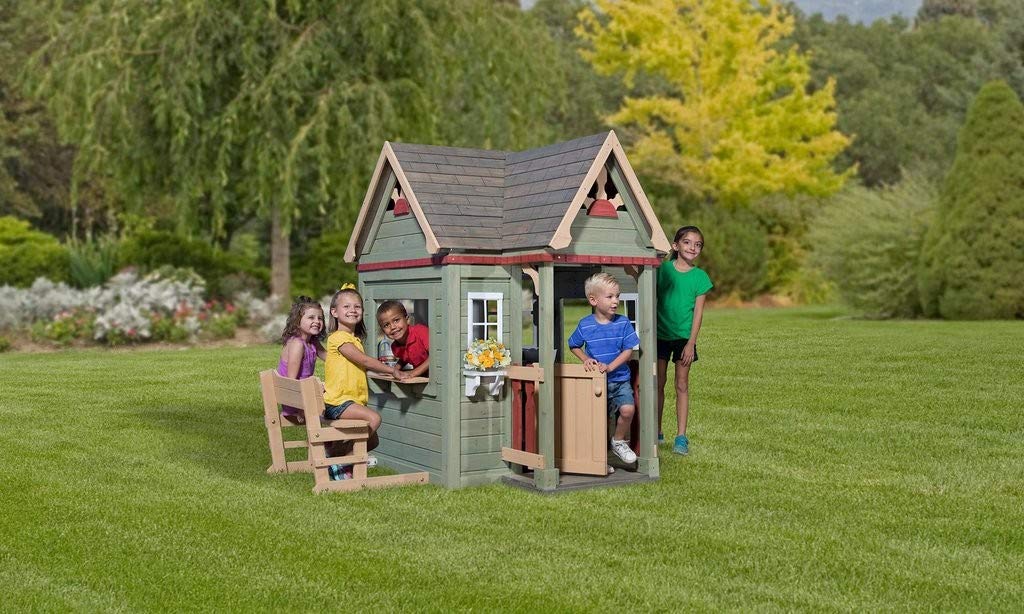 Backyard Discovery Victorian Inn All Cedar Outdoor Wooden Playhouse
Let your little ladies and gentlemen transport back to the elegant Victorian times within all the comforts of the modern day. With its large bay window, English garden bench, airy half door, classic serving station and fully stocked kitchen complete with phone, contemporary appliances and fresh Velcro food, the Victorian Inn Playhouse sets up your kids for years of fun. The Victorian Inn Playhouse is made from 100% cedar. With small, tight knot structure, your lumber will be less likely to develop small cracks emanating from knots. In laboratory testing, our durable cedar wood proved to be rot resistant and highly resistant to natural decay. All lumber is pre-stained for a smooth and clear appearance, as well as cut and stamped with the part number to help speed up the building process. Some pilot-hole drilling may be required. Our exclusive Safe-T-Fuse hardware makes assembly easy and secure.
Features:
Victorian-style wooden playhouse with front porch, serving station, bench and modern appliances

Kitchen complete with: telephone, plastic knife, cutting board, faucet, mounted sink, burner, fruit and vegetable basket with Velcro food (apple, corn, orange, carrot, watermelon, strawberry)

Half door with spring door hinges and large windows

White plastic flower pot holders and bay window
Specifications:
Assembled dimensions: 6'-2" L x 5'-5" D x 5'-7" H

Inside dimensions: 46 1/2" x 41 1/2"

Maximum children: 6

Panelized walls for quick and easy assembly

Designed and engineered for children only and for residential use only

Designed for kids ages 2-10

Constructed of all cedar wood which is naturally decay, rot and insect resistant

Provide a six-foot perimeter around the swing set as a safety zone
---
Customer questions & answers
Question: Would this fit a tall 6 year old?
Answer: Yes! We bought this for our 2 and 6 year old daughters and our 6 year old has plenty of room! She is average height but once inside has more than enough space to stand and walk around when they are both in there. Plenty of height to spare!
Question: What size flower pots do the window boxes accomodate? Looking for exact diminsions. Thanks!
Answer: They take a standard 4" pot
Question: what are the dimensions of the door?
Answer: 3 feet by4 I think
Question: How long does it take to assemble?
Answer: With all the parts laid out on a tarp it took two of us about a day to assemble. We took a bit longer as we installed a wood floor in the playhouse. Sealing the playhouse was done on a separate day, we also caulked the roof seams with clear caulk.
Special discount activity area