About this item
Wide 30" Reversible Side Door can be placed on either side
All Weather Durable, Long Lasting, and Maintenance Free Vinyl
Strong metal structure tested for 20lbs/sqft snow load
Door handle includes padlock eye to secure shed
Ideal for the Side of Your Home
---
Product Description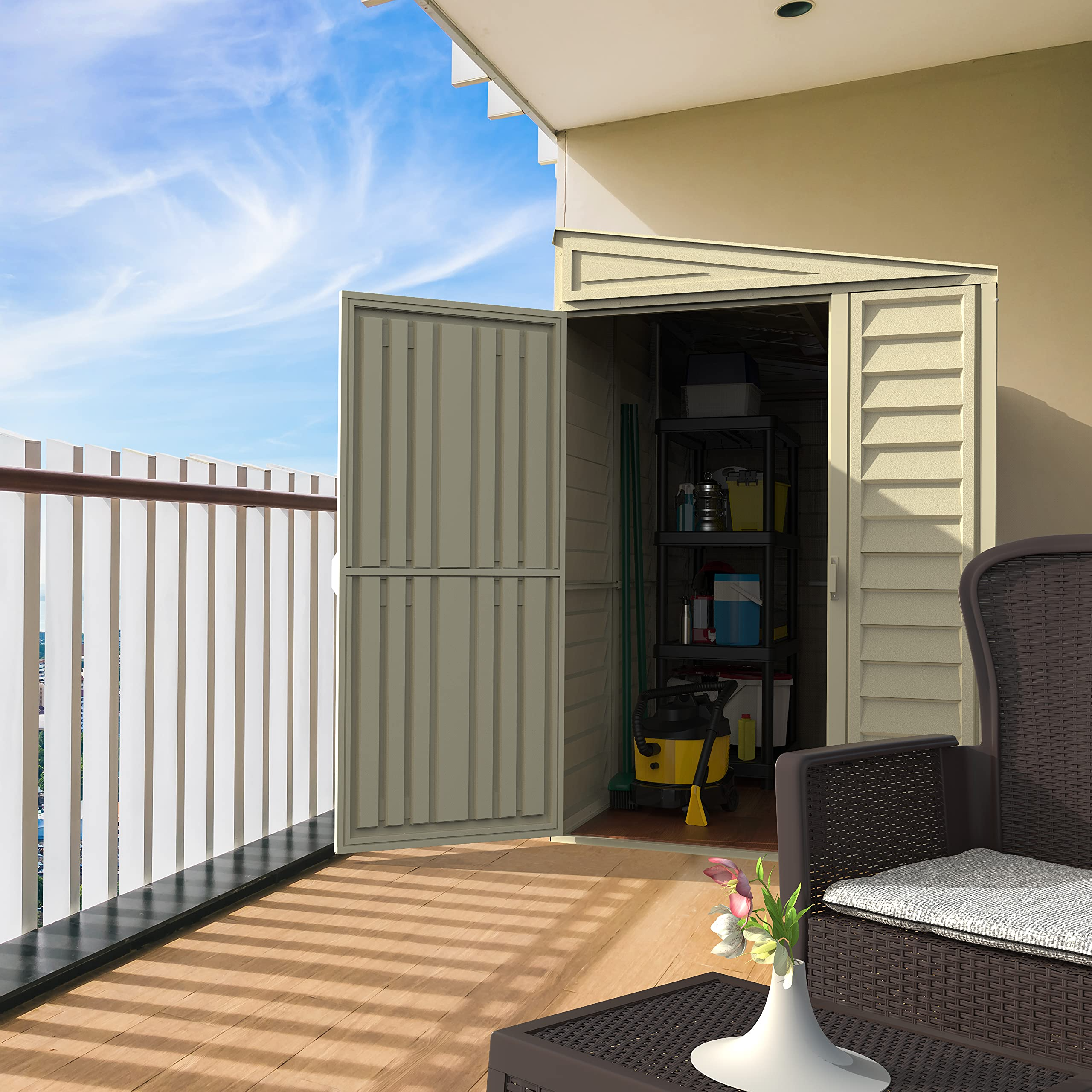 Duramax Sidemate 4'x8' Vinyl Storage Shed with Foundation Kit and Reversable Door
Perfect Vinyl Shed to fit on the side of your house
The SideMate 4x8 vinyl shed is an easy-to-assemble outdoor storage solution designed to be placed on the side of your home. The contemporary design beautifies any backyard while maximizing storage space for yard tools or garden equipment. Constructed of durable all weather vinyl in a neutral ivory color, the SideMate vinyl shed is maintenance free. It will never need painting or treating. It will not rust, dent, rot, mildew or fade.
Features:
All Weather Durable, Long Lasting, and Maintenance Free Vinyl Resin Shed

Wide 30" Reversible Side Door that can be placed on either side of the shed

Strong metal structure tested for 20 lbs. per sq. ft. snow load

Shelves can be mounted to steel reinforced columns

Door handle includes padlock eye to secure shed (Padlock not included with shed)

Ideal fit for side of your house
Specifications:
Exterior Dimensions: 48.1" Wide x 95.2" Depth x 73.8" Height
Interior Dimensions: 45.5" Wide x 92.2" Depth x 63.4" Height
Door Dimensions: 29.8" Wide x 61.8" Height
Weight: 134 Lbs.
---
Customer questions & answers
Question: How does this shed handles snow and cold/freezing temperatures?
Answer: I had no problem with snow and cold weather.
Question: Would I be able to install this by myself? I am an average person in strength and very good at assembling things.
Answer: You need 2 people one to hold some of the pieces while the other person screws the pieces together. It took on and off 3 day it's a little hard. But when we finish it looks good.
Question: Is the door lockable?
Answer: The shed door does not have a lock incorporated, but you could use a small padlock or key lock to secure it.
Question: I have a concrete slab 8'6"x3'4" w/ a 10" gap to house. Will it work if it is off the slab by 8" on the house side since it has a steel foundation?
Answer: Fill the gap with gravel or sand or decomposed granite.
Special discount activity area