Home
/
【Gazebo】10x10 ft Hardtop Gazebo, Outdoor Canopy Gazebo with Netting & Shaded Curtains for Patio
【Gazebo】10x10 ft Hardtop Gazebo, Outdoor Canopy Gazebo with Netting & Shaded Curtains for Patio
About this item
【High-Quality Materials】Our hardtop, all-weather gazebo boasts a strong, powder-coated and rust-proof iron roof that is highly-durable, UV-resistant and water-proof. It comfortably provides protection from the sun, wind and rain. The structure also includes a solid, heavy-duty, steel frame with triangular supports and large, sturdy feet.
【Pull Nets & Curtains】The side walls of the outdoor gazebo contain rugged, attractive mosquito nets and durable curtains conveniently set on independent, double-track slides, complete with zippers and straps. This combination of protection is highly effective at preventing ultraviolet rays and mosquitoes while maintaining air circulation, providing you with a safe and comfortable environment.
【Stable Structure】The four corners of the patio gazebo canopy are provided with holes and strong footings. The attached ground piles can be used to reinforce the pavilion, increasing its durability and safety.
【Internal Hook Design】2 sturdy hooks on the top layer of our hardtop gazebo make it convenient for you to hang lights or decorations for added comfort and ambiance.
【Multiple Applications】The 10'x10' canopy gazebo is a great addition to any terrace, backyard, deck, lawn or garden! It provides cool shade and a comfortable outdoor space to relax with loved ones.
---
Product Description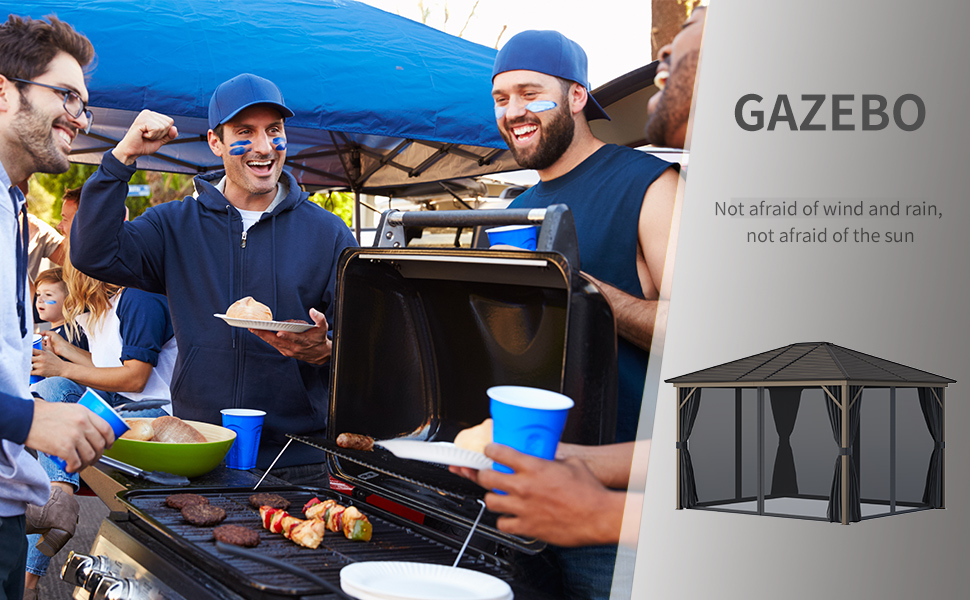 Imagine yourself relaxing outside in the beautiful summer weather. Sun is shining, a drink is in your cup, you will find you need a protective cover of an outdoor patio gazebo. With a well-designed and feature-packed outdoor canopy, you can relax outside without the fear of invasions. This is thanks to the netted mesh curtains that protects while still allowing for cool air to flow into the pergola. Furthermore, the polycarbonate paneling on the roof is water and UV protection, meaning you have ultimate protection while relaxing under the cabana. Check out our well-designed patio gazebo, and get back to relaxation.
Spcification:
Color: Dark Gray & Dark Gray
Material: Steel, Aluminum, Polyester Fabric
Weight Capacity Per Hook: 15 lb
Roof Hanging Weight Capacity: 60 lb
Overall Dimensions: 10' W x 10' D x 9' 4 1/2'' H
Inner Dimensions: 8' 6'' W x 8' 6'' D x 9' 2'' H
Overall Product Weight: 216 lb
---
Customer questions & answers
Question: Is the roof metal or just the frame? What kind of metal is it made from?
Answer: Just the frame is metal (aluminum). Roof panels are semi-transparent heavy gauge plastic. They are about 1/4" thick and are very durable.
Question: Do i need to buy for this gazebo a hd lighting or a fan ??
Answer: You will need lights if you want to use it at night. We own two. We put string lights in both—one is over the deck furniture for shade and the other is over the hot tub. No ceiling-type fan but we do use a floor fan when it's really hot just to move the air around when we're sitting out during the day.
Question: Has anyone use this product in te winter with a firepit? How does the roof respond to the heat?
Answer: We use BBQ, and also have small gas fire pit on the table. There is no problems using both.
Special discount activity area