Home
/
【Home&Garden】Outdoor Louvered Pergola 10' x 13' Aluminum Dark Bronze Outdoor Deck Garden Patio Gazebo
【Home&Garden】Outdoor Louvered Pergola 10' x 13' Aluminum Dark Bronze Outdoor Deck Garden Patio Gazebo
About this item
Premium material construction:Mirador is constructed of a powder coated aluminum frame and steel louvers that resist the elements and is TUV rated and designed to last for years of enjoyment.
Easy to Assemble and Install: Innovative "floorplan" instructions and online video aids are available to guide you.
Prefabricated Rails and Louvers: Assembly requires no special rivets or welds and is structurally sound.
Multi-functional: You are in control of the elements. You select the amount of sun you let in and you also have freedom from rainouts.
Coverage area: The 10' x 13' size provides 130 sq. ft. of direct coverage from the sun or rain.
---
Product Description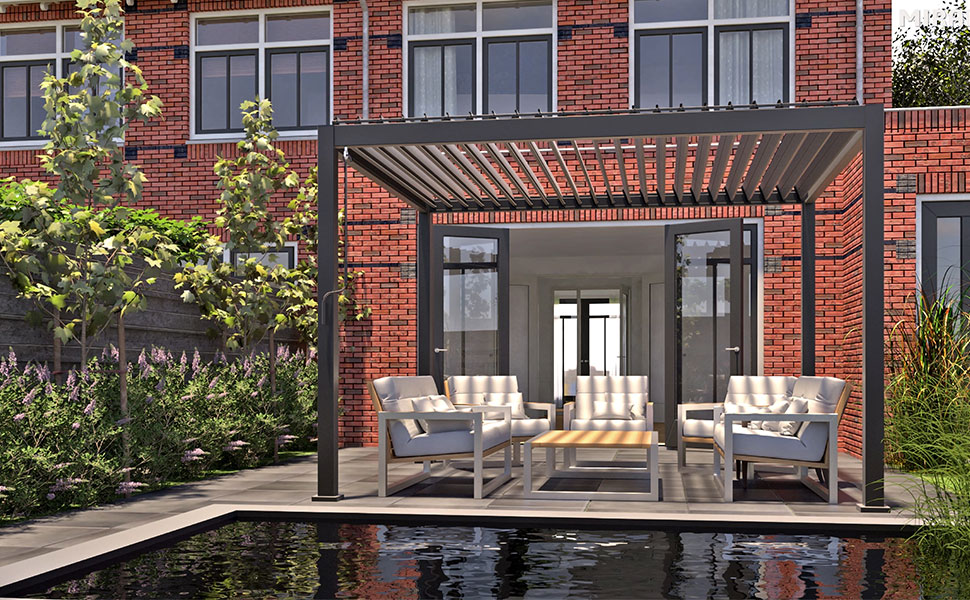 10' x 13' Aluminum Outdoor Adjustable Louvered Pergola Canopy; Deck Garden and Patio Gazebo
SORARA Outdoor Living's Adjustable Louvered Hardtop Pergola is an updated innovative design of a traditional hardtop gazebo. The roof incorporates adjustable louvers that open to an angle of 90° and can rotate shut to 0° providing maximum control of the elements. The frame is made of high grade aluminum and the roof is comprised of sturdy galvanized steel. All finishes are treated with a Tiger Drylac powder coating to be rust and fade resistant for years of enjoyment. It is your best choice for an outdoor pergola gazebo combination.
The unique louvered hardtop roof design allows you to adjust the lighting angle from the suns rays. In the evening you can open the louvers and have the nights sky in view while you relax in your favorite chair! If the weather changes and it starts to rain simply close the louver shut and continue to enjoy your outdoor living area with friends and family. Light to moderate rains are easily chanelled away through the integrated gutter system. Even when you are not using your outdoor space, close the louvers to protect your furniture from the suns harmful direct rays and to keep your furniture dry.
This pergola gazebo combination is certain to make a lasting impression on your guests as they enjoy your upscale, shaded getaway in your own backyard. What are you waiting for?Go and purchase now, your backyard oasis will be the envy of the neighborhood!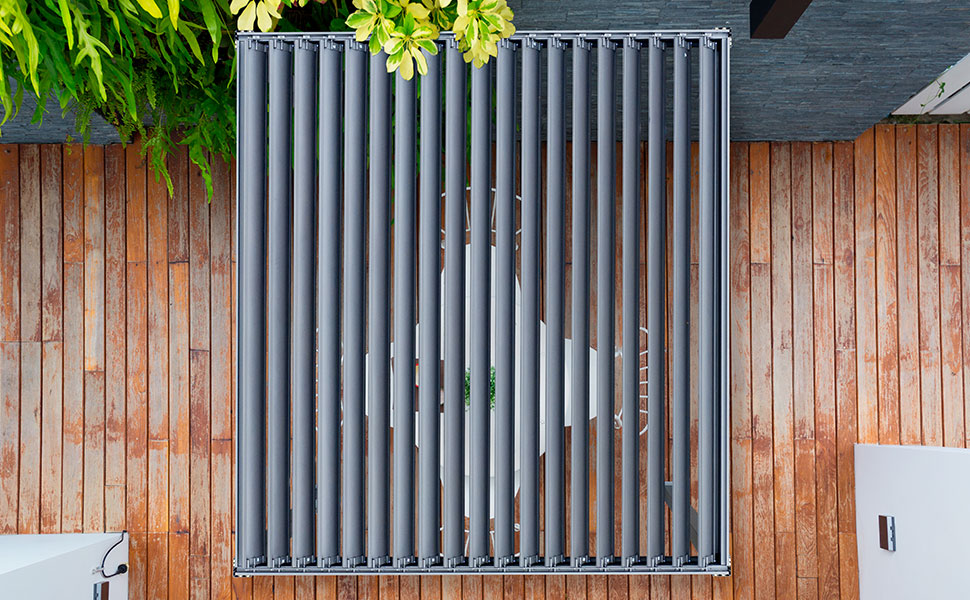 Adjustable rotating louvers
Extented ergonomic wand for easy control of the louvers
The rows of louvers can be adjusted separately to provide you with a variety of shade options.
Louvers can be adjusted to any angle from 0 degrees to 90 degrees to provide full control of the elements
The unique innovatively designed guttering system channels water away and since there are no internal cross beams, there are no gaps to fill with silicone.
Weather - Best Practices
·Close the louver during rainy weather.
·Do not stay under the awning during lightning or thunderstorms.
·Open louvers in case of heavy snow or strong or severe winds.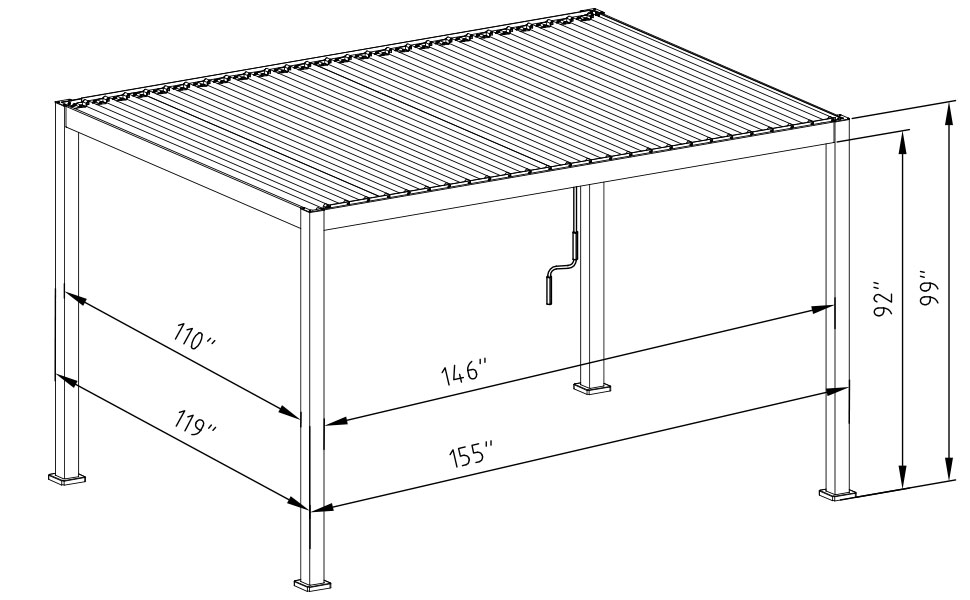 ---
Customer questions & answers
Question: what is the size thickness of legs, is it 4x4 or 5x5?
Answer: Just under 4.5" square
Question: Is it stable in strong winds?
Answer: I've only owned it for a few weeks but we've had some strong winds and no movement. We did not secure it to our cement slab, but they do provide the anchors to do so if desired.
Question: Are there rods along the top so you can add a curtain or netting?
Answer: No rods. I used S shaped shower hooks and placed in frame gutter
Question: i believe the thickness sof the pergola aluminum is about the same as a drain gutter
Answer: the louvers are - the columns & frame are heavier
Question: I'm going to install this on pavers. Is it recommended to get concrete footers for better protection against wind?
Answer: We installed this pergola in brooklyn and hired a specialist. The specialist installed a new composite elevated deck. They screwed each post into 2 layers of
concrete pavers and then cut a top composite tile so that the posts go through it. with the Pergola's
supplied feet covering it looks seamless. Leave the louvers open unless you are using them and you should have pretty good wind protection. Very satisfied with the product and the company.
Special discount activity area