Home
/
【Sports&Outdoors】Tomahawk Kayak
About this item
🛶High pressure drop stitched inflatable canoe
🛶Super light, 40 percent lighter than a traditional hard canoe of the same class
🛶3 Separated air chambers for additional safety in long-distance adventures
🛶V-shape inflatable keel under bow and stern for remarkable tracking performance and efficient strokes
🛶Extra-long hull waterline for higher paddling speed
---
Product Description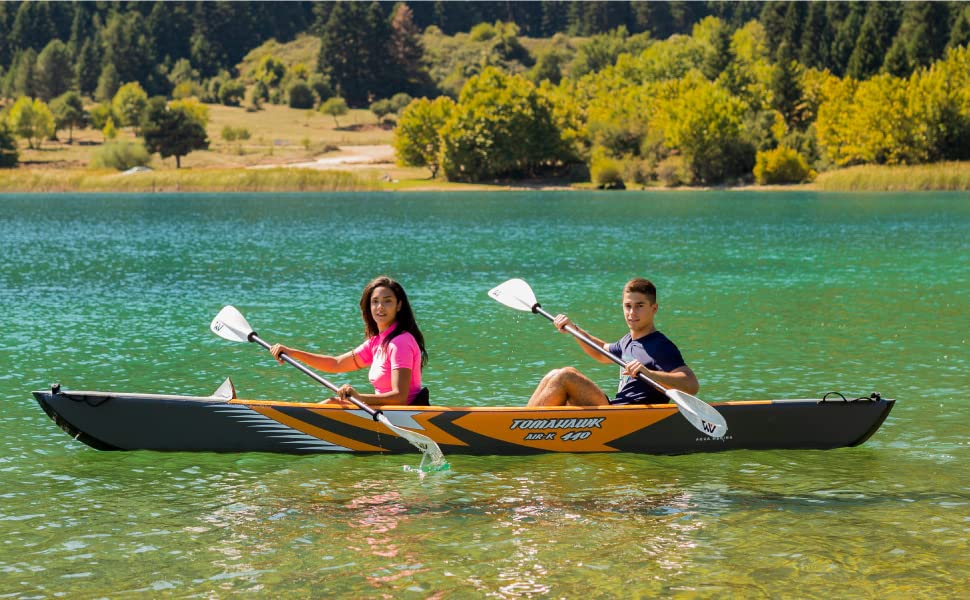 Tomahawk AIR-K 375
This kayak is a performance machine for true adventurers. The brand-new TOMAHAWK series are fully constructed of Drop Stitch Technology featuring the stunning look and incredible quality. Blending efficiency, speed, comfort and stability, it offers all you need for a perfect cruising with a light load. It's a lean speed-air-watercraft with streamlined floor, molded V-shaped form under bow and stern providing remarkable tracking performance yet enabling paddlers to make quick and stable turns.
High Quality Design and Materials
Fully constructed of Drop Stitch Technology

Stiffer and faster than any traditional inflatable kayaks

3 separated air chambers for additional safety in long-distance adventures

Colourful contemporary design print

Molded V-shape form under bow and stern for remarkable tracking performance and efficient strokes

Water splash guard bow on both bow and stern
Specifications:
Length: 12'4" / 375cm
Width: 28" / 72cm
Max Passenger: 1
Max Payload: 282lbs / 128kg
Weight: 36.6lbs / 16.6kg
---
Customer questions & answers
Question: The title says 440cm 12'4" but details say 440cm 14'5". Also max load states 128kg but aqua marina websites says over 210kg!
Answer: Its 440 cm and the max load is 210kg - that is correct. The Kayak is perfect for a rookie, its a little unstable at first sight but when you get used to it, it's great. The best feature is the speed of inflating or store. It's like around 5-8min and you are ready to go. BR =)
Question: Are paddles included?
Answer: No. Thank you.
Question: What psi do you inflate this to please ?
Answer: 10psi
Question: Would a medium size dog fit in this kayak with 2 adults comfortably?
Answer: Yes it would easily mate, infect a large dog such as a german shepherd etc would to.
I have this kayak myself.
Special discount activity area